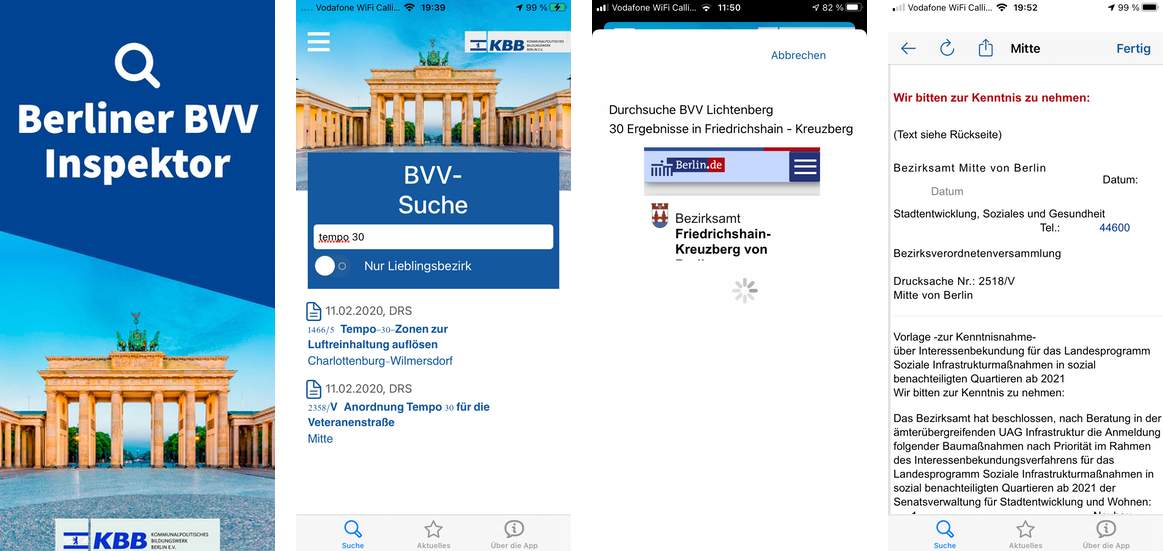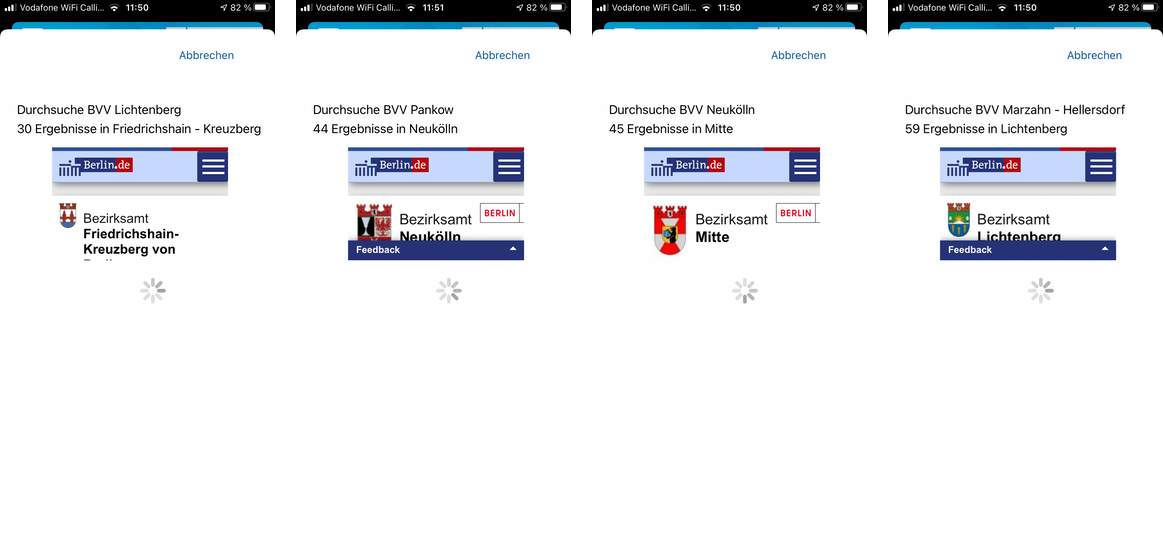 Explore Berlin Local Politics
Berliner BVV Inspektor
Explore all documentation from the ongoing work of all 12 Berlin district councils—in German language.
---
The Berliner BVV Inspektor offers the possibility to search across all 12 Berlin district councils. It opens up an easy and unique way to dive into Berlin local politics and to get detailed knowledge about what is going on in all parts of the municipal administration of Berlin such as latest decisions, running projects, assembly schedules, live streams and other important topics.
Each district of Berlin provides a wealth of information on its ongoing local political work within the city portal berlin.de. Meeting dates, agenda items, major inquiries, residents' requests, resolutions, decisions and much more are available in wording and can be viewed and read at any time. However, anyone who occasionally looks at the city portal will hardly notice this. The structure of the pages is too deep and it is too difficult to find the pages of the district councils via the menu structure.
A search engine spanning over all 12 local councils of Berlin - for everybody - not only for those who are involved in local politics in Berlin.
In the Berliner BVV Inspektor there is a single simple search mask for this purpose. With this you search in your favorite district or simultaneously in all 12 districts of Berlin. This is not only much easier and faster. The cross-district search is also only available in the Berliner BVV Inspektor. In the city portal berlin.de, the same search would have to be performed 12 times.
Local politics in Berlin
Berlin is a city state and therefore both a federal state and a city. There are 2 levels of administration. The Senate is the administration at the state level, the 12 districts perform the municipal tasks. Each district administration consists of the district office and the district assembly (Bezirksverordnetenversammlung, BVV). The districts are not legally independent; they are subordinate to the Senate. For this reason, the BVVs are not parliaments in the strict sense. They have no power to enact laws. However, they function similarly and are the people's representatives of the districts. They each consist of a maximum of 55 district deputies.
The BVV elects the district mayor and the district councilors and controls the district office. It initiates administrative actions with inquiries, requests and recommendations, but has no right to issue directives. It adopts the district budget, but requires the approval of the House of Representatives. The basis of its work is the District Administration Act (Bezirksverordnetengesetz, BezVG).
YOUR APP
Keep in Touch
and get an offer for your app today!