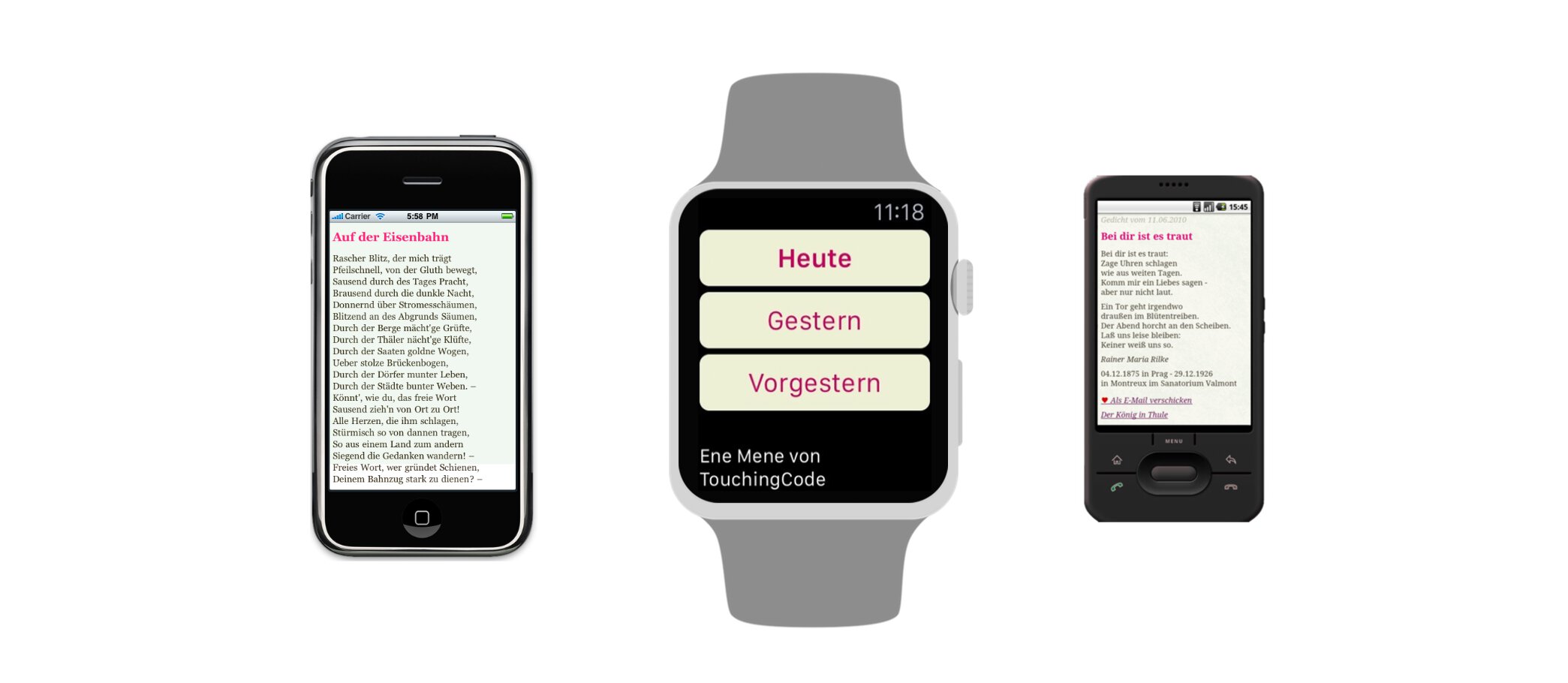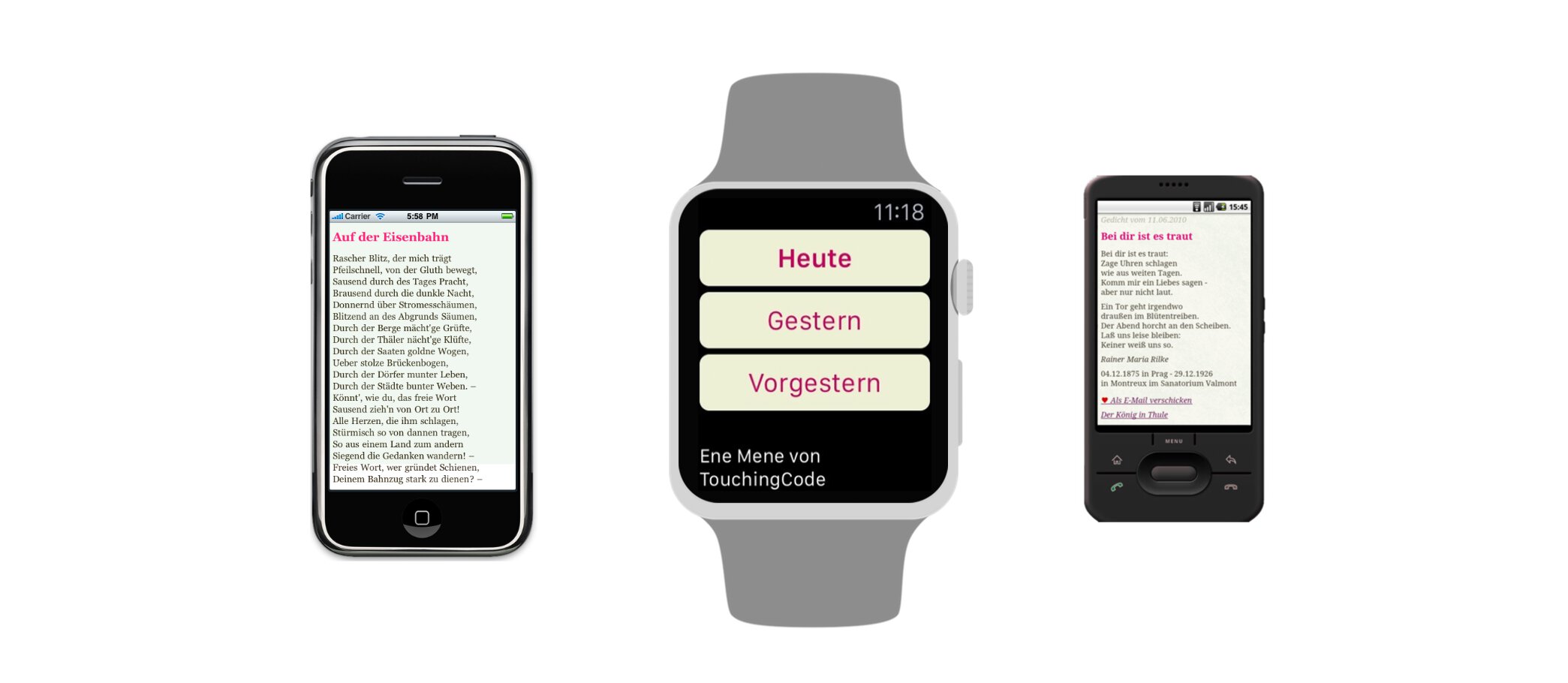 Ene Mene ist Poesie
Every day a poem on the train, on hold or just in between. Participate in our transitory reading fun with the Ene Mene poetry collection.
PROJECT DESCRIPTION
---
Poems and short literature for iPhone, iPod touch, Android-OS, the Blackberry PlayBook, the Apple Watch and for listening with the language assistant Alexa.
You call Ene Mene and the poem of the day is immediately there. No searching and looking up. It starts with three poems. Afterwards there is daily at 0:00 clock Central European time a new and at the same time the oldest disappears again. The poems are not stored and there is no reference book on the device. Nevertheless it is not possible to miss poems, because the time between the program starts does not add up.
In order to preserve the character of every single work of art from lines, verses and wraps, even if the available text width is limited, we have specially developed a wrapping method. If a line of poetry cannot be displayed in a single line of text, the rest of the line appears right-justified within the type area. When the mobile phone is lying horizontally, the font enlarges and uses the entire screen.
Listen to poems with a computer voice!
With our latest development for Ene Mene, the Alexa Skill Ene Mene, Alexa reads every poem from our collection. Of course with an artificial voice and not comparable to a real recitation, but, all in all, not bad.
"Alexa say Ene Mene I would like to hear a poem by Maria Janitschek".
Ene Mene Numbers
The poetry collection contains 622 poems by 195 authors sufficient for about 1.5 years. On iPhone and iPod touch Ene Mene has been loaded 9685 times until today. Users of Android devices installed Ene Mene 4895 times. In total there are 14580 downloads so far.
Extract from the author list
Maria von Ebner-Eschenbach - Theodor Baargeld - Lewis Caroll - Annette von Droste-Hülshoff - Joseph Freiherr von Eichendorff - Theodor Fontane - Robert Frost - Goethe Karoline von Günderrode - Heinrich Heine - Peter Hille - Maria Janitschek - Gottfried Keller - Friederike Kempner - Klabund - Detlev von Liliencron - Eduard Mörike Christian Morgenstern - Betty Paoli - Rainer Maria Rilke - Ringelnatz - Schiller - Carl Spitzweg - Theodor Storm - August Stramm - Georg Trakl - Kurt Tucholsky - Walther von der Vogelweide - Maria Luise Weissmann - Marianne von Willemer - and more.
Whichever device it is, here is the link to the Ene Mene app:
Download Ene Mene for iPhone and iPod touch (iTunes, free) ⇢
Download Ene Mene for Android-OS (Google Play, free) ⇢
Download Ene Mene for the Blackberry PlayBook (Blackberry App World, free) ⇢
About Poetry
Every summer the Poesiefestival takes place at the Kulturbrauerei in Berlin. 21 March 1999 was declared
World Poetry Day by UNESCO.
The
ZEBRA Poetry Film Festival
takes place normaly every 2 years.
YOUR APP
Keep in Touch
and get an offer for your app today!